ABOUT ABTECH
ISO STANDARDS
CLASS 1 thru CLASS 8
Manufacturer, designer, builder and installer of prefabricated and custom turnkey environmentally controlled modular cleanrooms including hardwall cleanrooms and softwall cleanrooms with temperature and humidity control, cleanroom levels from Class 100,000-10 to federal standards 209E (ISO CLASS 8 - CLASS 1). Laminar flow benches, air showers and accessories for precision manufacturing, biological semiconductor, aerospace and food processing industries. Prefabricated modular material packages for shipping available.
Read More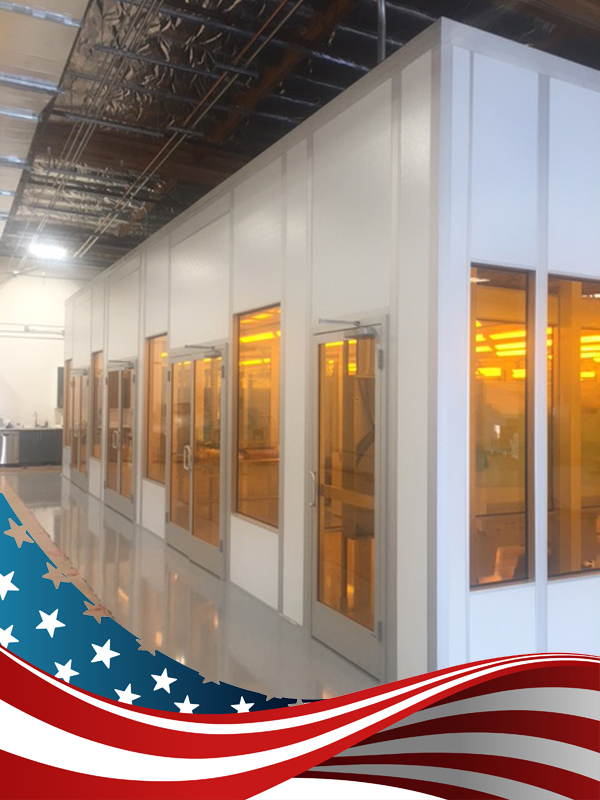 We provide the exceptional service we'd want to experience ourselves
Established in 1992 in Santa Ana, California, Abtech, Inc. has been a leading manufacturer of high quality modular buildings including Mezzanines, Modular Cleanrooms, Pre-Assembled Modular Cleanroom Systems, and related equipment for more than twenty years. Proudly making products in the USA, we are committed to both quality and service. This commitment means not only building products for durability, efficiency, and versatility, but offering these products in economical packages to fit within our customers' varying budgets. Taking on projects both large and small, we are dedicated to meeting each of our customers' unique needs and requirements every time.
Abtech, Inc. designs, builds, and installs prefabricated as well as custom turnkey environmentally controlled cleanrooms. These include hardwall and softwall cleanrooms from Class 100,000 to Class 10 with humidity and temperature control, all manufactured to federal standards. Products are built under our strict quality control methods and each cleanroom building project includes C.A.D drawings, and undergoes thorough inspection and reexamination before shipping. Packages may include air showers and laminar flow benches as well as other accessories and equipment. Our Modular Buildings are built with the same attention to detail and quality.
We know it is the combination of our product quality and customer support that has solidified our place in this competitive market today and we are proud of the reputation we have earned with our many customers. Maintaining a communicative relationship through each step of the manufacturing process is a key part in ensuring that expectations are met and done so in a timely manner. For this reason, our knowledgeable design, engineering, and technical staff are always ready to answer any questions or inquiries our customers may have. For more information about Abtech, call today!