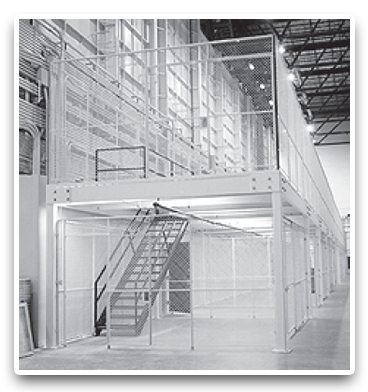 The Abtech Steel Mezzanine System is a Free-Standing, Modular Steel Structure that can be used in a variety of space saving concepts. Common uses include: Mezzanine Storage Platforms; Elevated or Multi-level Offices; Vision Towers; Equipment Platforms; etc. Floor-space can be increased quickly and economically. Our Modular mezzanine design easily allows for future expansion of your warehouse, in-plant storage or relocation to a different facility.
MULTI LEVEL MEZZANINE SYSTEMS

OFFICE MEZZANINE SYSTEMS

VISION TOWERS

CAGE SYSTEMS

CUSTOM DESIGNED CATWALKS

COMPLETELY MODULAR DESIGN

EXPANDABLE AND RELOCATABLE

MEZZANINE INSTALLATION OPTION

DESIGN AND ENGINEERING

LONG, CLEAR SPANS

HIGHLY DURABLE/LONG LASTING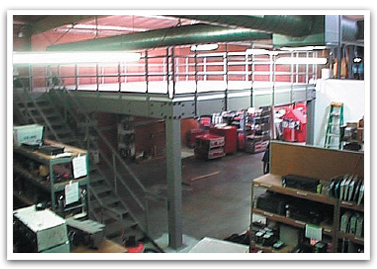 Abtech Custom Steel Mezzanines are designed to meet the customer's industrial in-plant size and loading requirements. Structural Steel Members are prefabricated and painted for Installation by end user or Factory Trained Installers. Mezzanine Systems can be Structurally engineered to meet different seismic zones and existing conditions. Optional Modular Walls, Wire Mesh Fence, Gates, Handrail, Stairs, Ladders, Lighting and Electrical packages are also available.
Call factory direct for prices on standard or custom sizes.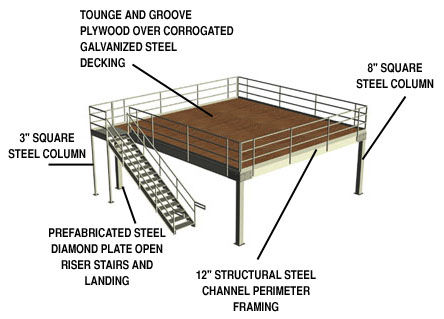 Modular Steel Mezzanine System

Model #

Nominal
Size

CAD
Drawings

Send
Inquiries

STM-2020

20'0" x 20'0"

STM-2022

20'0" x 22'0"

STM-2024

20'0" x 24'0"

STM-2026

20'0" x 26'0"

STM-2028

20'0 x 28'0"

STM-2030

20'0" x 30'0"

STM-3030

30'0" x 30'0"

STM-3032

30'0" x 32'0"

STM-3034

30'0" x 34'0"

STM-3036

30'0" x 36'0"

STM-3038

30'0" x 38'0"

STM-3040

30'0" x 40'0"

Specify Clear Height: (8)=8 ft. (10)=10 ft. (12)=12 ft. (14)=14 ft. (16)=16ft. Example: for STM-3034 Class Mezzanines, add "12" to model# (STM-3034-12) for 12' Clear Height. If necessary, custom Clear Heights are available.
Updated by Feb. 2008.
Printable Version
Features and specifications
MEZZANINE DECKING & FLOORING: 
Abtech provides a variety of decking surfaces depending on load and traffic requirements. The 1 1/2" thick steel deck is covered by 1 1/8" thick T& G Plywood, which handles the most standard mezzanine design loads at 125 psf. Furthermore, a variety of flooring can be utilized. In some office applications 1 1/8" Plywood may be adequate without Metal Deck.
STEEL GRATING is available in two different forms. Bar Grating (stronger and more costly) and Roll Form Grating are good choices, when Sprinklers or Lighting fixtures are not practical below the Mezzanine.
STEEL MEZZANINE CHECKERED PLATE in 1/4" thickness provides a durable nonskid surface. It can also be painted and is good for high traffic areas. OPTIONAL floor coverings are Vinyl Tile, Rubber Tile, Vinyl Sheet Flooring, Carpet.
STAIRS AND LANDINGS:
Stairs are provided with Structural Steel Stringers and 36"x12" Steel Checkered plate Treads with open riser. Standard 2-Rail Handrail is included. Landings are prefabricated and predrilled for bolted connection to Mezzanine and support Columns. Standard 2-Rail Handrail with 4" Toe kicks are provided.
HANDRAIL:
Handrail is 1 1/2" square Tubing and includes a top rail, center rail, and 4" Toe kick plate. Overall height is 42". 
Rails are painted Safety Yellow and are Predrilled for
bolted connections. Optional designs include Wire Mesh, Solid Panels, and additional Rail requirements based on occupancy.