HDW Series Modular Hardwall Cleanrooms
Model # of
Modular Hardwall Cleanrooms

Nominal Size of
Modular Hardwall Cleanrooms

CAD Drawings of
Modular Hardwall Cleanrooms

Send Inquiries

8'6" x 10'6"

8'6" x 10'6"

8'6" x 12'6"

10'6" x 10'6"

10'6" x 12'6"

10'6" x 14'6"

10'6" x 16'6"

10'6" x 18'6"

10'6" x 20'6"

12'6" x 12'6"

12'6" x 14'6"

12'6" x 16'6"

12'6" x 18'8"

12'6" x 20'6"

16'6" x 16'6"

16'6" x 18'6"

16'6" x 20'6"

20'6" x 20'6"

Specify Class: (A)=100,000 (iso 8) (B)=10,000 (iso 7)
(C)=1,000 (iso 6) (D)=100 (iso 5) (E)=10 (iso 4)
Example: for a HDW-888 Class 10 add "E" to model# (HDW-888-E)
HDW Series Hardwall Cleanrooms are designed to provide a clean, Environmentally Controlled Environment. Clean levels are available from Class 100,000 to Class 1 (ISO Standards Class 1 thru Class 8), with Temperature and/or Humidity control. The standard system consists of a Panelized Wall Structure that supports the Roof and Ceiling Grid material. Filtered air is provided by Self Powered Filter Units mounted in Ceiling that draw outside air through a Prefilter and deliver filtered air through a Hepa filter into Cleanroom. Filtered air is ex-hausted from Cleanroom through adjustable Exhaust Vents near Floor level. Clean levels will vary depending on quantity and configuration of Filters.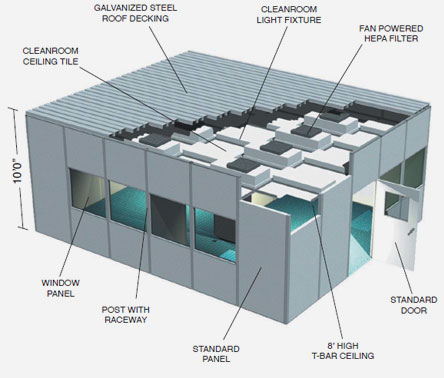 All components are prefabricated and completely Modular in design. Packages can be installed by End User or by our Factory Trained Technicians.
Call factory direct for prices on standard or custom sizes.
View Photo Gallery
Printable Version
Specifications
HDW Series Modular Hardwall Cleanrooms: Factory Prefabricated Modular Systems are designed to offer the greatest flexibility possible. Our modular components allow for future expansion and upgrades or relocation of complete system. Installation in most cases can be performed by the End User in a few days.
Hardwall Cleanroom Construction:
Based on a 3-inch thick panelized wall system supported by a series of Clear Anodized Aluminum extrusions. Wall panels can be ordered in a wide variety of materials and finishes. Standard panel is a double faced Kraft Honeycomb core with 1/8" White Melamine covered Hardboard both sides. Panel sizes are nominal 4-feet wide with heights from 8-feet to 14-feet and higher. Doors and windows are pre-hung for installation ease. Return air cutouts are framed in Aluminum Extrusions. Electrical is concealed inside Wall Post Cavity for Outlets, Light Switches, Conduits, etc.
Ceiling and Roof Cleanroom System:
Heavy Duty Steel Cleanroom T-Grid with a 2 foot by 4 foot pattern supports Filters, Light Fixtures, Cleanroom Tiles, and includes Gasketing material. Cleanroom Grid is supported by Corrugated Steel Deck, Panel Roof or Structural Steel. Aluminum T-Grid and Gel Grid Ceiling Systems are available for special applications.
Filtration Systems for Hardwall Cleanroom:
Designed to meet Federal standard 209E with a variety of air flow designs. Single Pass or Recirculating systems with Unidirectional or Non-Unidirectional air flow patterns are available. Filtration levels from Class 100,000 to Class 1. Standard Units are 2' x 4' Self Powered HEPA Filters, 99.99% @ .3 microns efficiency, with a 1' x 1' x 1" 30% pleated disposable Prefilter. Internal fans have Backward Incline Impellers with Direct Drive Motors, Statically Balanced, and require 115V-4.1A-1Ph-60 HZ power, or optional 115V-1A 1ph 60 hz power.

Environmental Control Cleanroom Packages:

Can be included to control Temperature and Humidity levels based on process requirements. Existing HVAC systems can be incorporated into design in some cases.

Options:

Ante/Gown Rooms, Air Showers, Pass-Thru air lock, ESD wallsceilings- and-floors, Raised Floors, Vinyl Cleanroom and Tile floors, Single and Double Doors, Windows, Cleanroom tables and other furniture, Amber colored lights and windows, Pressure Gauges, Equipment Platforms, Pre-Fab Steel Floor, Installation, Certification, and Modular Wiring Systems.