Abtech QS3 Series Qube-System Buildings are designed to provide the End User with a complete Prefabricated Modular Building Kit that can be shipped factory pre-assembled or unassembled, in 6 main sections, to reduce shipping costs and assembly time. The QS3 can be assembled or unassembled by end user on site quickly.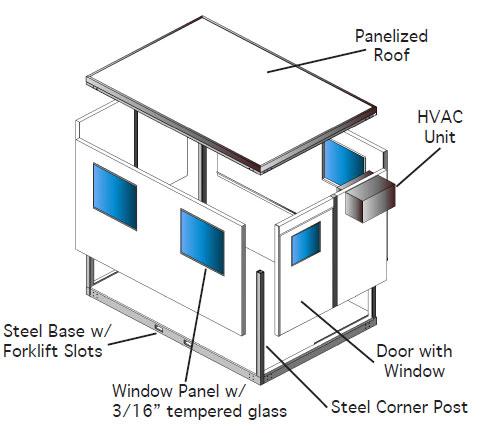 Standard size Building is 8' wide x 12' long x 8'-10" high. Another interesting and useful design feature of the QS3 is the ability to "join multiple units together" to form one building. Units can be joined on the 8' and or 12' sides like building blocks. Individual units can be lifted by forklift for simple relocation on site.
The standard system consists of a Welded Tubular and Structural Steel
Frame with a Panelized Wall and Roof System.
The wall and ceiling panels are nominal 3-inch thick. Standard Metal wall
panels will have either Embossed 26 ga. prepainted steel or .019 prepainted
aluminum skins laminated to 1/8" tempered hardboard both sides
of honeycomb or expanded polystyrene foam core.
Doors will be 1 3/4" thick and standard 42" wide by 80" tall to accommodate equipment or furniture. Door material will match wall panels and be framed in an aluminum channel for heavy traffic areas. Door jamb is a heavy duty extrusion. All doors are factory prehung including hinges, door lockset, sweep, and 2 'x 2' x 1/4" tempered safety glass window.
Standard fixed windows are 44" wide by 40" tall with 3/16" tempered safety glass installed in aluminum frame.
The Floor is Structural Grade Plywood with Vinyl Composition Tile.
A complete Electrical system is provided and includes Lights, Duplex Outlet, Switch, Sub Panel, Breakers, Conduits and Wiring.
HVAC package is mounted in a Pre-framed Panel and supplies Cooling,
Heating and Fresh Air.
All components are prefabricated and completely Modular in design.
Buildings are designed for Exterior or Interior use.