SFW Series Modular Softwall Cleanrooms
Model # of
Modular Softwall Cleanrooms

Nominal Size of
Modular Softwall Cleanrooms

CAD Drawings of
Modular Softwall Cleanrooms

Send Inquiries

8'6" x 8'7"

8'6" x 10'9"

8'6" x 12'8"

10'6" x 10'9"

10'6" x 12'8"

10'6" x 14'9"

10'6" x 16'9"

10'6" x 18'10"

10'6" x 20'10"

12'6 x 12'8"

12'6" x 14'9"

12'6" x 16'9"

12'6" x 18'10"

12'6" x 20'10"

16'6" x 16'9"

16'6" x 18'10"

16'6" x 20'10"

20'6" x 20'10"

Specify Class: (A)=100,000 (iso 8) (B)=10,000 (iso 7)
(C)=1,000 (iso 6) (D)=100 (iso 5) (E)=10 (iso 4)
Example: For a SFW-888 Class 10 add "E" to model# (SFW-888-E)

Specifications are subject to change without notice. See Softwall
Cleanroom Particulates Table for Reference to ISO Standards.
SFW Series Modular Softwall Cleanrooms are designed to provide clean environments from Class 100,000 to Class 10 (ISO Standards Class 3 thru Class 8).
This softwall cleanroom system consists of a Tubular Steel Frame Structure that supports the Ceiling Grid and Clear Vinyl Curtain Wall material. Filtered air is provided by Self Powered Filter Units mounted in-Ceiling that draw outside air thru a Prefilter and deliver filtered air through a Hepa filter into Cleanroom. Filtered air is exhausted from Cleanroom beneath the Curtain at Floor level. Clean levels will vary depending on quantity and configuration of Filters.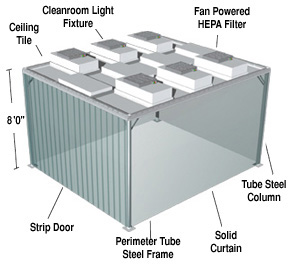 All components for softwall cleanrooms are prefabricated and completely Modular in design and can be installed by End User or by our Factory Trained Technicians.
Call factory direct for prices on standard or custom cleanroom sizes.
Printable Version
Specifications
SOFTWALL CLEANROOM FRAMES:
Columns and Perimeter framing is 3"x3"x1/4" Square Steel Tubing with White Powder Coat finish. Corner Bracings are 1"x1"x1/8" Square Steel Tube.
CLEANROOM CEILING:
Rectangle Steel Tube Main Tee's on 4 foot center line with Aluminum Cross Tee's on 2 foot center line support 1/2" thick Vinyl Coated Gypsum Cleanroom Tiles, Light Fixtures and Filters. Aluminum wall angle forms perimeter Closure. Foam Gasket material is provided to seal Grid system.
CLEANROOM WALLS:
4 foot wide x 7 foot 6 inches high, .040 thick, Clear PVC Curtain surround perimeter. A 3 foot wide Doorway with 8 inch wide overlapping strips is standard. All Curtains are mounted to Ceiling Frame with an Aluminum Framing System.
FILTRATION for SOFTWALL CLEANROOMS:
2 foot x 4 foot Self Powered Hepa Filters, 99.99% @.3 microns efficiency, with a 1'x1'x1", 30% pleated disposable Prefilter. Standard Speed Control and 6 foot Power Cord are factory mounted. Blowers have Backward Incline Impellers with direct drive Motors, are Statically Balanced, and require 115V-4.1A 1PH-60HZ power, or optional 115V-1A-1PH-60HZ Power.
OPTIONS:
Anti static and Low Outgassing Curtain, Rigid Acrylic or Polycarbonate wall, Locking Swivel Casters, Manometer Filter Pressure Gage, 230V Blowers, 277V Lighting, Flow Thru lights, Ulpa Filters (.12 microns), Stainless Steel frame, Ionization package, Spot Cooling A/C system