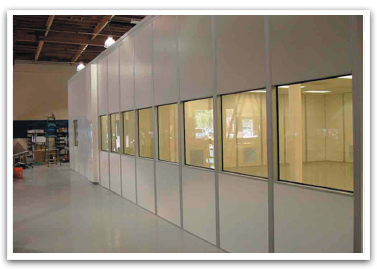 Abtech IP3 Inplant Offices provide the "End-User" with a Modular System which serves to divide a large work space, such as a warehouse or a manufacturing plant, with an environment suitable for the administration of business. They can be designed as a single, open area unit, or with interior walls to separate personal work space from a main office area. Partitions can also be provided. Aesthetically pleasing as well as functional, our Inplant Offices are manufactured to create or augment any space so your business makes the impression you want it to.
ONE & TWO STORY INPLANT OFFICES

OFFICE MEZZANINE SYSTEMS

FORKLIFTABLE GUARD BOOTHS

PARTITIONS for Inplant office

CLEANROOMS

COMPLETELY MODULAR DESIGN

EXPANDABLE AND RELOCATABLE

INSTALLATION OPTION

DESIGN AND ENGINEERING

MANY WALL FINISHES AVAILABLE

ENVIRONMENTAL CONTROL ROOMS
The Abtech IP3 Series Inplant Offices can be constructed in a variety of ways, using our predefined specifications, or implementing an "End-User" custom design. Options for construction include single story or two story modular office systems, and they can be built to serve a specific purpose other than office space, such as Vision Towers. As it is a completely modular system, expansion and flexibility provide major construction advantages. The many upgrade opportunities to enhance efficiency and utilization make the IP3 Series a great way to integrate an office environment within any inclosed setting.
Call factory direct for prices on standard or custom sizes.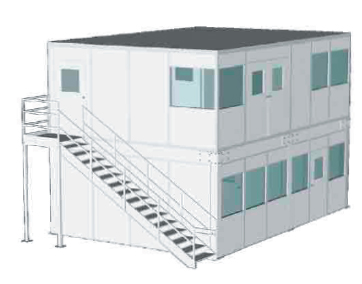 TWO LEVEL IN-PLANT MODULAR OFFICE
IP3 SERIES Two Level Inplant Offices

Model #

Nominal
Size

CAD
Drawings
(PDF)

Send
Inquiries

IP3-888-2L

8'6" x 8'6"

IP3-8108-2L

8'6" x 10'6"

IP3-8128-2L

8'6" x 12'6"

IP3-10108-2L

10'6" x 10'6"

IP3-10128-2L

10'6" x 12'6"

IP3-10148-2L

10'6" x 14'6"

IP3-10168-2L

10'6" x 16'6"

IP3-10188-2L

10'6" x 18'6"

IP3-10208-2L

10'6" x 20'6"

IP3-12128-2L

12'6" x 12'6"

IP3-12148-2L

12'6" x 14'6"

IP3-12168-2L

12'6" x 16'6"

IP3-12188-2L

12'6" x 18'6"

IP3-12208-2L

12'6" x 20'6"

IP3-16168-2L

16'6" x 16'6"

IP3-16188-2L

16'6" x 18'6"

IP3-16208-2L

16'6" x 20'6"

IP3-20208-2L

20'6" x 20'6"

Specify All Desired Custom Changes At The Time of Ordering.
IP3 Standard Height is 8'. If Necessary, Custom Heights Are Available.
Updated by Feb., 2008.
Specifications are subject to change without notice.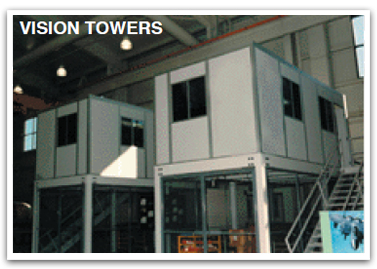 Printable Version
Features and specifications
CORNER POSTS: 
Corner posts will be of single piece construction and support loads of up to 4,500 vertical pounds. Struc-tural steel cavity inserts can be added for loads up to 12,000 pounds. Material will be 6063-T5 aluminum, minimum .062 thickness, and clear anodized finish.
BASE CHANNEL:
Base channel provides support for wall panels and posts while allowing space for anchors or post uplift connectors. Its low profile design is aesthetically pleasing and eliminates the need for additional base molding. Material shall be 6063-T5 aluminum, minimum .062 thick, and clear anodized finish.
BEAMS for Inplant Office:
Wide Flange Structural Steel Beams span across the Mezzanine and support the decking on 4' centerlines. They are predrilled for attachment to Perimeter Channels.
PERIMETER CHANNELS: 
Perimeter members are Structural-C sections of various sizes (depending on loading and span) with predrilled Beam Flanges and ends for bolted connections. These members are attached to the Columns and provide support for Beams.
COLUMNS:
Columns are standard 8"x8"x1/4" Steel tubing. Steel plate flanges are provided for bolted connections between Columns and Perimeter Channels. Base Plates are minimum 12"x12"x1/2".
GATES: 
Gates can be provided for additional access for loading and unloading materials. Lift Out, Hinged, Double Hinged, and Sliding are further options.
OPTIONS for Inplant Office:
Optional materials include Office Enclosures top and bottom levels, Multi story configurations, Wire Mesh Enclosures, Ladders, Closed Riser Stairs, Multi Level Stairs and Landings, Catwalks, Lighting Systems.
INSTALLATION:
Factory installation is available for the full line of materials.